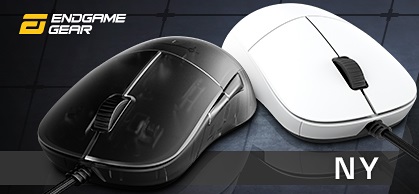 The New XM1R - Precision Redefined
The XM1r is a refresh of the acclaimed Endgame Gear XM1 Gaming Mouse.With the inclusion of the new PixArt PAW3370 optical sensor and Kailh GM 8.0 switches, topped with two new transparent shell editions, the XM1r has been designed with precision and style in mind.
2020-12-17
The XM1r's responsiveness is significantly improved by the implementation of the PixArt PAW3370 sensor with a resolution of up to 19000 CPI, 1mm of Lift-Off-Distance and up to 400 IPS. Every effort has been made to squeeze the last ounce of performance from this sensor.

Custom Kailh GM 8.0 switches have been used for the XM1r's main buttons. These have been pre-sorted to an operating force of 55-60gf, which results in an extremely pleasant and fast click.


New transparent shell editions in addition to the classic black and white models
Hybrid design bottom shell, making it possible to install both large or small skates
More durable Flex Cord 2.0 cable
All new firmware and software developed in Germany
Kailh GM 8.0 main button switches
New transparent shell editions
Flex Cord 2.0
PixArt PAW3370 sensor

Available in following colours:

XM1r White
XM1r Black
XM1r Dark Reflex
XM1r Dark Frost